Lake Hill, Latrobe literary buffs and a recipe (of course)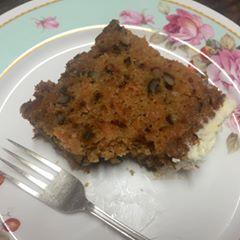 And so, Lake Hill is launched. Huge thanks to all you wonderful readers who have bought, read, talked about, and generally supported Lake Hill as much as you have. The book reached No. 2 on the Collin's Booksellers Best Seller list (The Barefoot Invester, pipped me at the post, darn it all :) and was still going great guns at No. 6. Apparently the book is plastered on light walls at the Sydney, Brisbane and Perth airports too, but as I'm nowhere near those lovely places, I'll have to take my publisher's word for it :)
Onwards with the Gippsland LAKE HILL tour! This weekend is the fabulous Latrobe City Literary Festival!
On Sunday, I'll be joining author's Paul Mitchell, Scot Gardner, and Dorothy Johnston from 10 – 4pm at the Traralgon Library. If you'd like to meet your favourite author, ask questions about their books, learn about the creative writing process or find out how to write your OWN book, this is a fabulous opportunity to mine four authors' brains in the one room!
For more details, go to: http://www.latrobe.vic.gov.au/Whats_On/Events/Events_Calendar/Register_a...
~~~~~~~~~~~~~~~~~~~~~~~~~~~~~
And for the cooks in the room who saw my carrot cake on Facebook the other day, I promised to share the recipe here. This carrot cake is no fuss cooking at it's best. It's moist, and absolutely delicious. And it's a large cake so should last for quite a few smoko's! (Note for Jenny & Wayne C: this is the one I need to bring to your house when we come look at your cattle )
Cake
2 ½ cups Self Rising Flour
1 teaspoon Bi-Carb Soda
2 teaspoons ground cinnamon
1 teaspoon ground nutmeg
1 1/2 cups sugar
5 eggs
1 ¼ cups vegetable oil
2 cups walnut halves
4 cups grated carrot
½ cup well drained pineapple (crushed)
Cream Cheese Frosting
185gm butter, softened
185gm cream cheese, softened,
1 teaspoon of vanilla
2 ¼ cups icing sugar
good squirt of lemon juice
Preheat oven to 170 deg. Grease a 25 cm (or thereabouts) cake pan. Line base and sides with baking paper. (I used a 26cm round spring form cake tin as that's what I had in the cupboard.)
Sift dry ingredients into a big bowl on mix master. (Preferably a beautiful raspberry pink Kitchen Aid Mix Master, which hopefully your family gave to you for your birthday as your old second-hand Sunbeam, died. ) Briefly mix gently. Slowly add in sugar, eggs and oil. When combined add, carrot, pineapple and walnuts. Mix until well combined again.
Pour mixture into prepared cake tin. Bake for approx. 1- 1 ¼ hours or until you insert skewer into centre and it comes out clean. Turn onto wire rack to cool. (DO NOT LET ANYONE EAT IT YET! The best is still to come …)
CREAM CHEESE ICING: Beat butter, cream cheese and vanilla in small bowl of mix master until light and fluffy. Gradually mix in sifted icing sugar until combined and add a squirt of lemon juice.
Spread frosting over cold cake. Can decorate with extra walnuts. I didn't and it was fine. I figured all the walnuts in the mixture were enough for my kids to manage :) (The little darlings aren't big fans of nuts ... No comments about their mother please ..)
The original recipe was from the Australian Women's Weekly, which I have tweaked a little.
Enjoy!
Margareta x
PS I'm reading THE LOCKSMITHS DAUGHTER by Karen Brooks. Can't get my head out of it!